Adventure Day Trips
Where do these boat diving trips take place?
Throughout the months of 2018 Scubadive West will run scuba diving day trips departing from Cleggan Pier and from Scubadive West. These day trips take place off our high speed dive boat, and travel to rarely visited, world-class dive sites off High & Friar Island, Inis Boffin, Caher Island and Crump Island. The day consists of two dives, with a stop for lunch in between; weather permitting this is often a picnic lunch on one of the islands.
Dive Sites we visit
Dive sites we visit on Cleggan departures include the renowned Spotted Rock off Inis Boffin; a sheer drop off to 47 metres and wall dives off both High & Friar Island with depths of 40+ metres attainable. Departures from Scubadive West will visit recently discovered dive sites off Crump Island at the edge of the Renvyle Peninsula, also the spectacular Caher Island which is dotted with early Christian crosses, a 7th Century Church and spectacular views of the Mayo and Connemara coastline.
A Little Bit of History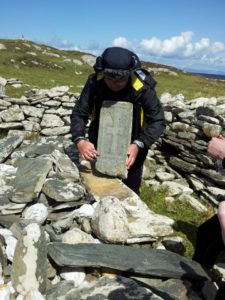 For each island visited, we will share some local history with divers. The islands off Connemara are renowned for their historical significance. Some sheltered the indomitable Granuaile, the original 'Pirate Queen', while others featured prominently in pre-Christian Ireland. We are often acompanied by Professor Michael Gibbons, Connemara's very own field archaeologist and keen scubadiver, (pictured above). He interprets the landscape and artefacts in his unique, entertaining and highly informative style!
Adventure Boat Diving Trip Schedule 2018 
These day trips have become a regular fixture on Scubadive West's scuba diving calendar and will remain so during the 2018 season. A minimum of Advanced Openwater certification is required with recent diving experience in Irish water.
How much does this diving day trip cost?
2018 price for this day trip is €85; this includes two dives. Airfills are €8 and any gear rental is at our usual rate.
Adventure Boat Diving Trips for 2018
May: Saturday 5th.
June: Saturday 9th.
July:  Saturday 14th.
August: Saturday 18th.
September: Saturday 15th.
 and!  September: Saturday 29th.
Please note that Scubadive West reserves the right to cancel or postpone a trip based on weather and bookings.
We also offer:
Saturdays – local boat dives at 10am. and 2pm.
Sundays – local boat dives at 10am. and 2pm.
We also offer mid-week boat dives for groups and boat excursions.
call or email to check availability.
Gift Vouchers Available.
How do I Book?
Simply contact us with your preferred date and details!
For further reading on Scubadive West's Adventure Day trips, see our blog articles on Caher Island Adventures here and Inishark Adventures here 
Also check out our Adventure Day Trip photo album on facebook!