Boat Diving in Galway Ireland
Leading All-Weather Scuba Dive Centre.
Scubadive West is widely regarded as Ireland's only all-weather scuba dive centre. Our ideal location near the Killary Fjord allows safe and sheltered boat diving all year round.
Dive Sites in Galway Ireland.
At Scubadive West there is an enormous variety of dive sites all located within 15 minutes of the dive centre's doors.
Sites include:
Inis Barna, which has gained fame as the "conger eel" dive
The Julia-T wreck dive, a stunning supply vessel sitting at a maximum depth of 27 meters
Thanny Beag, a sheer wall dive to 30 meters
The Gaddys; two reefs diveable to 30 metres.
Dolphins are often sighted form the dive boats.
Dive Boats

                                    
Divers travel in comfort to these sites on our high-speed rib, the Marlin or the spacious Sea Sprinter half-decker. Both are licensed by the Department of marine and fully insured. Fully equipped with Oxygen, First Aid equipment and spare dive gear. The dive boats are fitted with large comfortable dive ladders, for easy access after your dive.
Our boat dives are at 10am and 2pm daily and run throughout the year.
July and August 2020, departures at 10am. 12pm. 2pm and 4pm on Saturdays and Sundays. pre book and prepay.
Please contact Scubadive West for more details.
Please note that Scubadive West reserves the right to cancel or postpone a trip based on weather and bookings.
We offer:
 Saturdays – local boat dives at 10am. and 2pm.
Sundays – local boat dives at 10am. and 2pm.
  __________________________________________
Post Covid-19 Lockdown.
We re opened on 29th June and offer boat diving at 10am, 12 midday, 2pm and 4pm. €40 per dive.
PRE BOOKING AND PRE PAYMENT ESSENTIAL.  Call +353 (0)95 43922 or email info@scubadivewest.com
__________________________________________
We also offer Charter of this Licenced Passenger Boat, for Commercial Charter and boat excursions.
Available Monday to Friday by prior booking, €650 per day.
call or email to check availability.
Boat diving trips in Galway Ireland on the
Wild Atlantic Way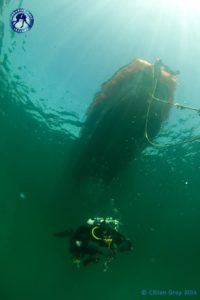 "Ireland's only fjord is stunningly beautiful and it's even more dramatic underwater. Saucer-sized scallops dance away in defense as giant starfish edge too close. Massive conger eels lurk under rocky ledges and the wealth of not too distant dive sites off the ancient offshore islands defies belief. There are spots here for divers, or wannabe divers, of all stripes."